WATERPROOF AND DUSTPROOF (IP67)
Built to survive summer
Rigorously tested to meet an IP67 rating, SoundLink Flex is waterproof and dustproof, inside and out. Dunk it in water and it'll keep on playing. It even floats. The speaker is also protected against dust, so you don't need to worry if it gets sandy at the beach.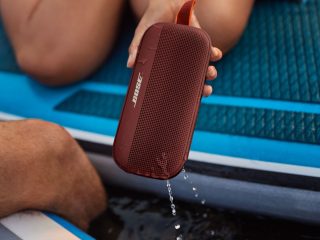 Built to handle some bruising
With its powder-coated steel grille and silicone exterior, the SoundLink Flex Bluetooth speaker was purpose-built to make it adventure-ready. Its tough exterior can withstand almost any mishap, while its powder coat won't peel or flake and is resistant to rust corrosion and UV light.